---
The Beauty of a Sigh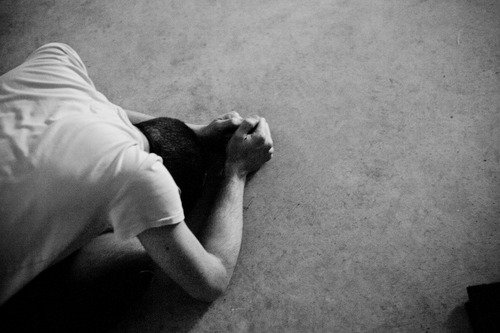 A sigh is so easily misunderstood.
By definition, to sigh is to "emit a long, deep, audible breath expressing sadness, relief, tiredness, or a similar feeling."   A lot can be wrapped up in a sigh.  I often let out sighs after moving a heavy piece of furniture, or laying my head down on pillow at the end of a tiring day, or when I try to communicate clearly to someone just to be misunderstood.  Literally, a sigh helps lighten the load…physically, emotionally, and spiritually.
The Romans passage for this week says, for we do not know how to pray as we ought, but that very Spirit intercedes with sighs too deep for words. This is a beautiful and comforting expression of a sigh.  When we don't know how to pray, the Spirit intercedes with a sigh.  It doesn't say that the Spirit intercedes with an answer or a way to fix the problem.  The Spirit offers an expression of emotion for us.
Sighs are used descriptively throughout the Bible, especially in the Old Testament:
Psalm 38:9 "my sighing is not hidden from you"
Psalm 55:17 "At dusk, dawn, and noon I sigh deep sighs – he hears, he rescues." (The Message)
Isaiah 51:11 "So the ransomed of the LORD will return And come with joyful shouting to Zion, And everlasting joy will be on their heads They will obtain gladness and joy, And sorrow and sighing will flee away."
As Romans 8 suggests, a sigh can be a beautiful prayer!  A few years ago, after the Charleston shootings, a pastor friend of mine simply posted on social media, "with sighs too deep for words."  And with that I could pray and know that God felt the weight of the tragedy with me.  When I do not have words…I have a sigh.
And so, I offer you the beauty of sighs.  When words don't seem adequate, or you have no words, or you want to pray but don't know where to start…I offer the beautiful gift of a sigh.  Or the next time you hear your children sigh, consider it a prayer! May God be honored through our sighs.
---
If You Missed Sunday's Sermon…
Read or Listen to The Place of Grace –  Genesis 28:10-19a
---
1 Kings 3:5-12– Please give your servant a discerning mind in order to govern your people and to distinguish good from evil, because no one is able to govern this important people of yours without your help. (CEB, v.9)
Psalm 119:129-136– Come back to me and have mercy on me; that's only right for those who love your name. (CEB, v.132)
Romans 8:26-39 – For I am convinced that neither death, nor life, nor angels, nor rulers, nor things present, nor things to come, nor powers, nor height, nor depth, nor anything else in all creation, will be able to separate us from the love of God in Christ Jesus our Lord. (NRSV, v.38-39)
Matthew 13:31-33, 44-52 – The kingdom of heaven is like a net that was thrown into the sea and caught fish of every kind (NRSV, v.47)
---
This Week at Hood
Wednesday, July 26 – Member and Regular Attender Meetings begins at Hood MCC (Call or stop by the church to sign up)
Wednesday, July 26, 4:30 pm – Prayer & Inspiration
Thursday, July 27, 12:00 pm – 2:00 pm – Pastor Jason at the Cellar for drop-on conversation (108 N Wilson Ave)
Friday, July 28 – Member and Regular Attender Meetings continue (Call or stop by the church to sign up)
Sunday, July 30, 11:00 am – Worship
Recommended Posts
October 15, 2019
October 14, 2019
October 09, 2019