---
Faces of Faith – New Summer Series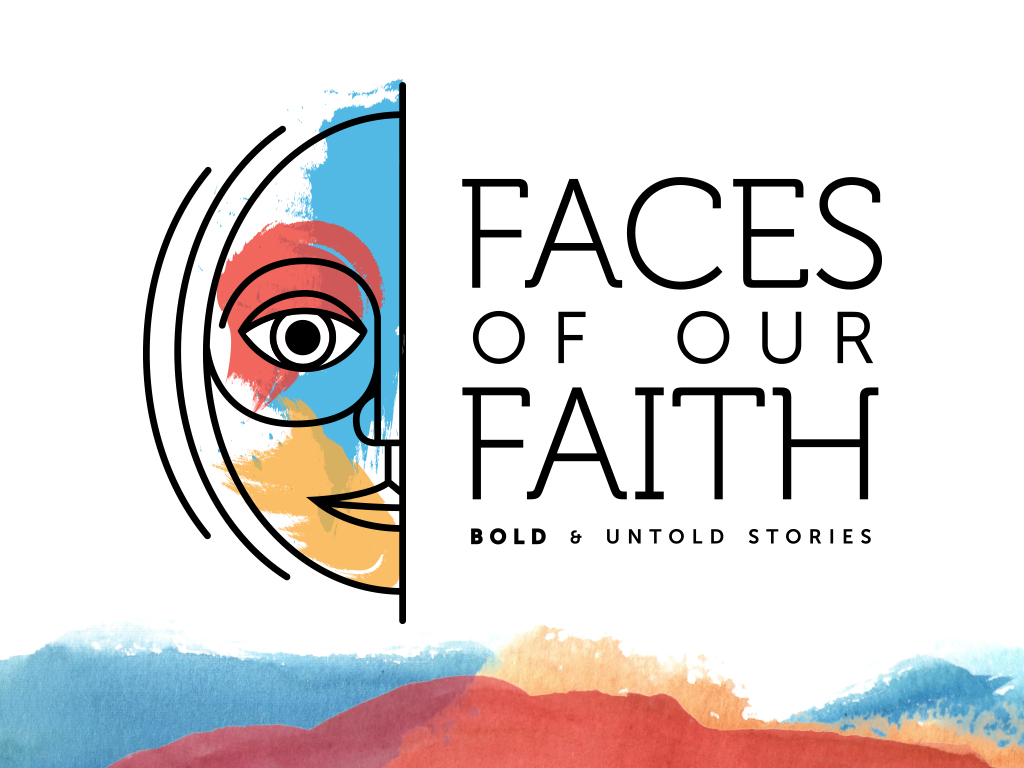 Stories bring people together. Stories teach us. Stories comfort us. Stories challenge us. Stories inspire us. Our lives are literally made up of hundreds and thousands of stories. There are lots of stories from our faith and we tell over and over again. Some you may know by heart. But there are also dozens of stories that get overlooked, forgotten, or set aside. This summer we are going to turn back to some of those great but often unknown stories of faith!
Announcing our Summer Worship Series at Hood – Faces of Our Faith! This is a series by an amazing group of artists called A Snactified Art who seek to bring scripture to life through art.  Why is this so important? Well, here what they have to say:
Over and over, our scriptures offer us glimpses of God meeting people in words and images, in visions and poetry, in dreams and revelations beyond our wildest imagining.

And yet, when it comes to our worship, so many of our worshiping communities are bound to words on a page. We listen to scripture read and proclaimed, we recite unison prayers like a script, and we grip our bulletins like road maps telling us when to sit or stand. Thanks to a certain French Reformer, we've inherited a robust emphasis on the Word; we value the many ways scripture can instruct, inspire, edify, and ground us.

But in our pursuit to centralize the Word in our worship, we sometimes become complacent, letting the Word lay flat on a page. Sometimes we forget that, before the Word was written, it was envisioned, and uttered, and breathed.1
Joanie and I are super excited about Face of Our Faith. There are 16 stories from scripture that we will look at over the summer…some you may know well and others…well, not so much. But before I get ahead of myself, here is a little about the series from the creative team:
There are many heroes of the faith, people we admire and wish to be. However, there are even more ordinary people of faith—those doing what they can with what they have to make a difference. We've selected 16 bold stories of those often overlooked in our biblical narratives. Using visual art and prompts for reflection, we hope to dig deep into the worlds of these characters, entering their stories with curiosity and openness to what they might teach us.
Here are a few of the stories we will dive into this summer…
Shiphrah & Puah – Exodus 1:8-22
The Daughters of Zelophehad – Numbers 27:1-11
Deborah – Judges 4-5
Queen Vashti – Esther 1-2:17
Shadrach, Meshach, & Abednego – Daniel 3
Joseph of Arimathea – Luke 23:44-56
Ethiopian Eunuch – Acts 8:26-40
Lydia – Acts 16:11-15, 40
Philemon – Philemon 1
And 7 More!
Each week, we will offer reflections on a story, original artwork for prayer, meditation, and reflection, blog articles, and even coloring pages for the artist in you to enjoy at home! I can't wait and I hope you will get excited as well as we deepen our spiritual lives through Face of Our Faith.
---
This Week at Hood
Wednesday, May 23rd, 1:00 pm – Prayer & Inspiration
Wednesday, May 23rd, 6:00 pm – "Young-ish" Small group
Wednesday,May 23rd, 6:00 pm – No Choir practice
Thursday, May 24th, 1:00 pm – 3:00 pm – Pastor Jason at The Cellar for Drop-In Coffee & Conversation (108 N Wilson St)
Sunday, May 27th, 11:00 am – Worship – Faces of Our Faith: Adam & Eve
Upcoming Events
Friday, June 1st, 7:30 pm – Family Movie Night with Popcorn and Drink (in the Parking lot)
Recommended Posts
November 19, 2019
October 15, 2019
October 08, 2019