---
Pledge the Pink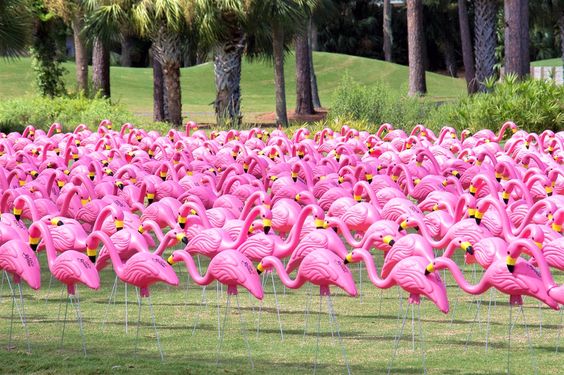 Did you know that two of our members will be island jumping and dancing with flamingos next weekend (October 26-28th)?  That sounds like an exotic vacation, doesn't it?
On the contrary Lisa Willis, Emily Barefoot, and their friend Darlene Parker will be working tirelessly to raise funds and awareness for Breast Cancer Prevention and Treatments through the Pledge the Pink Event.  Over three days, this team of women from our area will join hundreds of others who will be walking/running 30 miles in 3 days covering 3 islands.  They begin on Fripp Island, move to Bluffton & Pine Island and finish on Hilton Head Island.  
The Pledge the Pink event raises funds that are given to national and local non-profits that are fighting breast cancer.  These organizations fund biopsies, treatment, patient services, and research.  In addition, every $50 donation will provide one mammogram.  Each mammogram has the potential to save a life.  A large percentage of the money raised for this event stays in the Carolinas.
We are so proud of Emily and Lisa and we know they represent Hood Memorial as they walk through the beautiful islands of the Carolinas.  We send our love and prayers and support.  Their love of God and their personal testimony of how God has worked in their lives drives them to walk 30 miles to support breast cancer prevention and awareness. We extend our gratitude for their ministry and their willingness to give of themselves in such a special way and for teaching us new ways to share God's love.
We pray they will have fun, meet new people, share laughter, learn about themselves, and experience God's love in great ways.  You can help support their journey…
Write a letter of encouragement to Lisa, Emily, and Darlene.  They can read these when they feel like giving up…it is our way of showing them our support and expressing our love of them.  You can give any handwritten notes to Pastor Joanie.
Make a donation to their team, The 3 Amingos.  Go to www.pledgethepink.com.  When prompted to look up a participant or team you can use Lisa Willis, Emily Barefoot, or The 3 Amingos.
---
Did You Miss Sunday's Message?
Read or listen to Sunday's message Back in the Day: Grace, Laughter, & Getting Older – Genesis 18
---
Homecoming 2018
Sunday, October 21
10:15 am – Coffee & Donuts Fellowship Time
11:00 am – Homecoming Worship
12:00 noon – Covered Dish Lunch
Make plans to attend our Homecoming Services this year, bring a neighbor or a friend, and invite any family or friends to come back and join us for the special service and reuniting with one another and Christ.
---
Trunk or Treat/Fall Celebration
Sunday, October 28th, 4:00 -6:00 pm
Bring your car, add some Fall decorations, and greet the children in our community for our Trunk or Treat/Fall Celebration; we are collecting bags of candy and prizes for games for this event in the hallway next to the office; we also need folks to sign up to bring their cars and open their trunks with goodies, we also serve Robie's famous chili…it's gonna be a fun night for all ages!
---
This Week at Hood
Wednesday, October 17 – 1:30 – 2:30 pm – Prayer & Inspiration Small Group
Wednesday, October 17, 6:00 pm – Choir Practice
Thursday, October 18, 12 noon –  Clean-Up Workday at Hood
Thursday, October 18 – 6:15-7:15 pm – Thursday Evening Small Group
Sunday, October 21, Homecoming (see schedule below)
Tuesday, October 23, 9:00 am -2:00 pm – DUMA Food Pantry Volunteers Needed
Recommended Posts
October 08, 2019
September 09, 2019
September 02, 2019