---
Give Thanks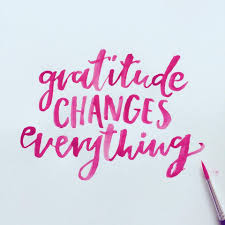 Nothing you have nothing you experience is a product of you alone. Everything you have everything you experienced is a gift. It has been possible because of dozens of other people – people close to you and people you don't even know and most importantly everything is a gift from God. And when you realize this and began to cultivate the act of giving thanks you will harvest happiness in your life.
Gratitude is what we will be talking about for the next few weeks in our new Sunday Series called Growing Gratitude. We are going to dig into what gratitude really is. We are going to learn how to cultivate our awareness of gratitude.  Are going to learn how to express gratitude in practical and tangible forms.
Here's a nugget to get you thinking this week: Some people define gratitude as a sincere feeling of appreciation. I say no. And so does the Bible.
What does the Bible say over and over again about thanks? Does it say feel thanks? Does it say relish in the state of gratitude? Does it tell you to say thank you? Does it say to take thanks for yourself?  No, no, no. The Bible says over and over again exactly what 1 Thessalonians 5:18 says: Give Thanks!
Give thanks. Don't feel thanks, or say thanks. Give thanks! As we grow gratitude in our lives over he next few weeks we are going to really learn how to give thanks to God and to others.  You want to do good? Then Give thanks. You want to show someone that you love them? Give them thanks. You want to get close to God? Give God thanks. You want to be happy? Give thanks!
from Pastor Jason's reflection on Sunday called Growing Gratitude.
Next Steps for This Week
Reflect: How happy am I? Take some time to write down or pray about my degree of happiness in life.
Reflect: How grateful am I? Take some time to write down or pray about my degree of gratitude. Think about all areas of my life: work, faith, family, hobbies, friendships, organizations you are involved in, etc.
Reflect: When I think about the world around me – home, work, the news, issues my community faces, politics – how is my mind sometimes Velcro for the negative and Teflon for the positive. What could I do to make more of the positive stick?
---
Miss Sunday's Message?
Read or listen to Growing Gratitude – 1 Thessalonians 5:15-21
---
Cotton Festival
We will have a booth again this year at the 20th Annual Cotton Festival.  We will again set-up our photo booth and provide photo opportunities for children and adults.  We invite you to come and
spend an hour or two with us as we welcome guests to our booth and tell our community why we love Hood Memorial Christian Church.  We need volunteers throughout the day.  We will begin to set up at 8:00 am.  Our booth will be on Broad Street across from the Dunn Museum.  Come and join us for a great day of fun and meeting folks in our community.
This Week at Hood
Wednesday, October 31, 1:30 -2:30 pm – Prayer & Inspiration Small Group
Wednesday, October 31, NO CHOIR PRACTICE
Thursday, November 1,  6:15 pm – Thursday Evening Small Group
Thursday, November 1, 6:45 pm – Choir Practice
Saturday, November 3, 8:00 am – Begin Set-up for Cotton Festival; Cotton Festival 9:00 am – 4:00 pm Sunday, November 4, 11:00 am – Worship
Upcoming Events:
Sunday, November 11, 4:00 pm – Veteran's Day Concert
Sunday, November 18, 6:00 pm –  Community Thanksgiving Service at First Presbyterian Church
Recommended Posts
May 07, 2019
November 20, 2018
November 13, 2018