---
Foundation of Fathers, Part 2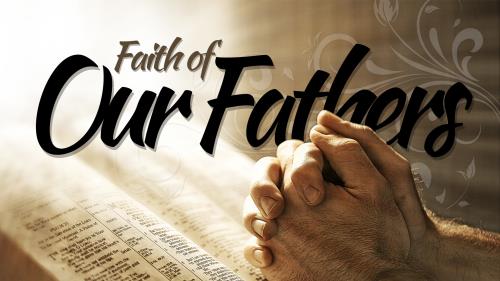 This Sunday we celebrate Father's Day.  In our worship we will celebrate and pray for all the men in our church for the ways they are committed to our God and teach us through their example.
During this 130th anniversary year, we remember some of the men that have laid foundations of ministry at Hood Memorial Christian Church and have demonstrated a life devoted to Christ.
Today we here from Karen Tart Krueger about her father, "Tittle" Tart.
Daddy loved this church.  William S. "Tittle" Tart was born in 1925 and Hood Memorial was part of his life from the very beginning.  His grandmother, Civil Eldridge Thornton, was a charter member of Hood Memorial and I'm sure that helped make the church even more special to him.  He never really talked about what the church meant to him, but you could tell by his actions and dedication to the church just how important the church was to him. 

The church was a place of comfort to Daddy and he was always there to help the church any way he could.  He may have been a deacon, chairman of a committee, cook in the kitchen, handyman, or greeting people on Sunday morning and handing out bulletins.  Whatever needed to be done, he was proud to help.  After Daddy died, we found a drawer full of neatly folded bulletins, years worth, with a number written in the top corner of each one.  He always counted the number of people who attended church each Sunday.  I remember that we used to drive two cars on Sunday morning because Daddy would leave home early to unlock the church doors, turn on the lights, and check the air/heat. He stayed after church to check the air/heat again, turn off the lights, and lock the doors. 

In the last year of Daddy's life, I would hear from various people that Daddy's car was at the church at odd times, doors locked and no one there.  He found peace and comfort at the church, it was like home. 

Daddy loved this church.
---
301 Yard Sale
The yard sale is this Friday and Saturday. 
Donations can be brought to the church this week…if you are able, we appreciate you pricing them before you come.  We need lots of volunteers this week to help price and sort items and to help set up on the morning of the yard sale.  All monies raised go to support the ministries and missions of our church.  Join us for a fun weekend of working together!!
---
Kids @Hood Lemonstand!!!
Join us June 14th 11:00 am – 2:00 pm & June 15th 10:00 am – 1:00 pm. Take a break during the 301 Yard Sale with a refreshing cup of Lemonade and help our kids support other children.
Movie Night Postponed!
We postponed our old school movie night to June 28th. at 8:00 pm.  We will watch the Disney animated Aladdin from 1992! This was one of my (Pastor Jason) favorite movies from the '90s…I know all the words! I hope you will join me at the end of the month, invite a friend, and sing along to the feat songs from Disney's Aladdin!
We need volunteers to help set up the movie screen at 6:00 pm!
---
Father's Day
Who are the men in your life that spent time with you, loved you, taught you, and inspired you in your journey with God?  What memories do you have of your dad or another man that has left a beautiful impression on your heart?  We want you to share pictures with us of your dad or other "father" figure in your life this week during worship.  Don't forget to bring your pictures with you!!
Donuts for Dads
All of the men of the church & their guests are invited to join us on Sunday at 10:00 am as the children
serve donuts to say thank you for all you have done and the many ways you taught us and shown us God's love.  Don't miss a free donut this Sunday at 10:00 am. No Sunday School this week.
---
This Week:
Tuesday, June 11, 6:15 pm – Small Group
Tuesday, June 11, 6:30 pm – DWM Salad Supper and June Meeting
Wednesday, June 12, 1:30 pm – Prayer & Inspiration
Thursday, June 13, 2:00 pm – Ladles of Love, Meal preparation & delivery
Friday, June 14, All Day – 301 Yard Sale & Lemonade Stand
Saturday, June 15, All Day – 301 Yard Sale & Lemonade Stand
Sunday, June 16, 10:00 am – Donuts for Dad
Sunday, June 16, 11:00 am – Worship
Upcoming Events:
June 25, 9:00 am – 2:00 pm, Volunteer Opportunity at the DUMA Food Pantry; Children (ages 5 and up) are invited to come at 9:30 and work until 11:30 am.   Parents are asked to accompany any child under the age of 8. The children will go to lunch together afterwards.
June 28, 8:00 pm, Movie Night: Aladdin
Recommended Posts
September 09, 2019
June 24, 2019
June 11, 2019