---
You Are What You Do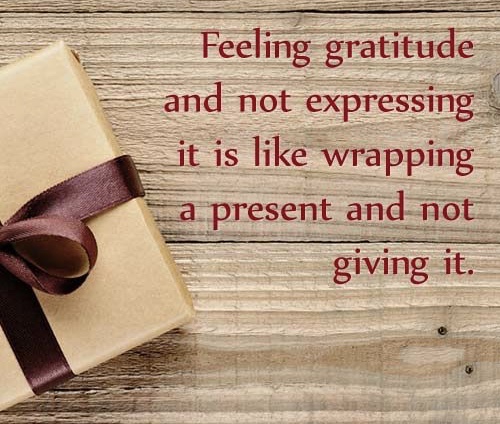 On Sunday, we were challenged to give our thanks, to release our gratitude from within and share it with others.  Here are some ideas from the sermon to help you get started:
Gratitude Journal
Gratitude jar – like a penny jar! (Look back at them once a year like on New Year's Day)
Gratitude Letters
Gratitude phone call
Gratitude visit
Spend quality time focused on a person you are grateful for
Give more compliments
Don't just say "thank you" – say:

What I love about you is…"
"My wish for you is…"
"Here's what yo mean to me…"
"This is how you impacted my life…"

Smile more often, laugh out loud, giggle, chuckle, Cry tears of joy
Do a Gratitude Act each day – give someone a gift, praise, act of service to show your thanks
Focus on people- if you are thankful for a thing, turn your focus towards a person responsible for that thing (the giver, the maker, the inventor, ie. the people behind the service)
Celebrate Everything – especially accomplishments and milestones
Donate, Volunteer, Get Involved
Learn something from everything – a learning posture is a grateful posture
When you find yourself complaining, force yourself to see something positive in the situation for which you can give thanks
Place reminder notes around the house or your office that remind you to give thanks
Pray and meditate on the gifts you have experienced each day
Look for and express the good of the mundane and ordinary
Help others see the glass half full
Find opportunity in mistakes
Say aloud things you are thankful for before a meal
Express yourself! So many of us think things, but we do not express the outside of ourselves. Try these:

Sing! Sing! Sing! – in the car, shower, church choir, whatever! Just sing!
Draw, paint, write, build, create…do something with your feelings!

Create a gratitude wall or board full of pictures and quotes of things you are grateful for. Put it in a place where you see it every day (like when you wake up).
Try even just going outside and literally shouting! (This can be very cathartic)
Say thank you aloud to yourself! Look in the mirror and say "I appreciate you."
On anniversaries and birthdays, write a letter or list of highlights from the past year
Random acts of kindness (pay it forward!)
Start and end your day with a gratitude prayer
Reflect: How do I most commonly express gratitude? Are there times when my gratitude is silent and remains a gift not given? What practical steps could grow my expression of gratitude?
Reflect & Practice: When have I, like the 9 lepers, been healed or blessed, but not turned back to Christ to bow and give thanks? Take some time this week to stop, turn to Christ, and give thanks for those things.
Practice: Write down a few ideas from the sermon this week (see above) on practicing gratitude. Each day this week, try one of those practices to grow gratitude in your life
---
Miss Sunday's Message?
Read or listen to Growing Gratitude: You Are What You Do – Luke 17:11-19
---
This Week at Hood
Wednesday, November 21, 9:30 am – Prepare & Serve "Thanksgiving Feast" to Playgroup
Wednesday, November 21, 12:00 pm – Prayer & Inspiration Small Group LUNCH at THE TRACKSIDE
Wednesday, November 21, 6:00 pm – Choir Practice
Thursday, November 22,  6:15 pm – HAPPY THANKSGIVING!!  NO SMALL GROUP
Sunday, November 25, 11:00 am – Worship
Sunday, November 25, 4:30 pm – Decorate Sanctuary for Advent
Upcoming Events:
Thursday, November 29th, 3:00 pm – Ladles of Love Meal Preparation
Thursday, November 29th, 4:00 pm – Ladles of Love Meal Delivery
Sunday, December 2nd, 11:00 am – Worship: Hanging of the Greens
Saturday, December 8th, 4:00 pm – Dinner at Lashmit Lakehouse and Tour of Lights at Lu Mil Vineyard ($6 person)
Sunday, December 16th, 11:00 am – Worship: Choir Cantata; 12 noon – Church-wide Christmas Lunch
Monday, December 24th, 5:30 pm – Christmas Eve Candlelight Service
Recommended Posts
November 11, 2019
November 04, 2019
October 28, 2019