---
All Saints' Day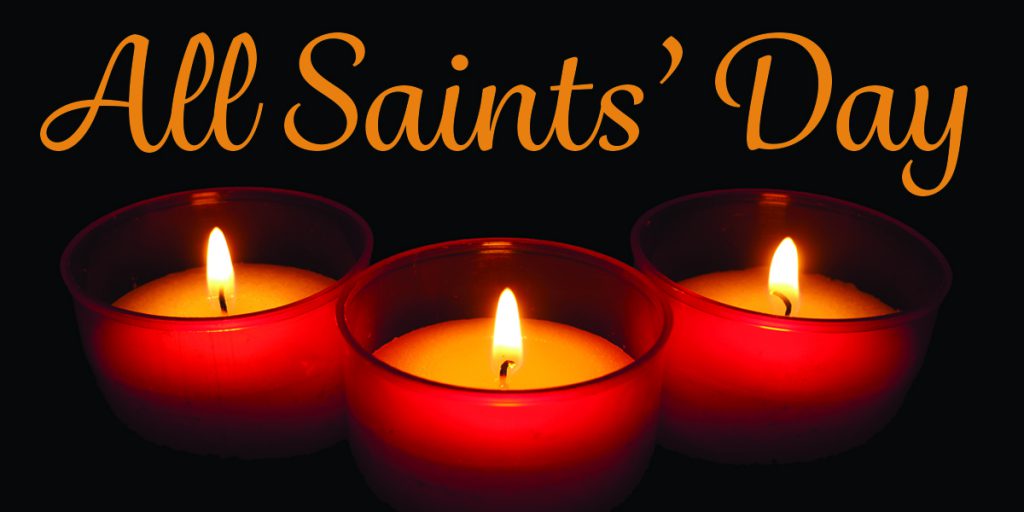 This Sunday in worship, we will ask two questions:
What does gratitude mean?
Who are the saints in your life for whom you are grateful?
Jason will spend a few moments looking at what Biblical meanings and understandings of gratitude.  We will reflect on the truth behind the word gratitude.
Secondly, on Sunday we will remember All Saints' Day.  All Saints' Day is a celebration in the Church's life that honors and remembers those people that been a part of our lives and influenced us in our life with Christ, but have now transitioned into their heavenly home.  This year, we remember members of our church that have died: Donald Barefoot & Morrie Denning. We also remember the lives of our extended church family:  Thomas Williams & Janice Ward Lockamy.  In addition to these saints who are dear to our church, we will also have an opportunity for you to light a candle in remembrance of anyone in your life that you may have lost in the past year or any saints in your life who have influenced you and have been important in your own spiritual journey.
You are invited to begin thinking about these two questions. Here are some additional questions for reflection.
What are your ideas of gratitude? 
How would you define gratitude now? 
Could there be more to the action of gratitude? 
Who are the people in your life that you would consider saints? 
Are there people whom you cherish that have died recently? 
How have they been an influence on your faith journey?  
Miss Sunday's Message?
Read or listen to Growing Gratitude – 1 Thessalonians 5:15-21
---
Cotton Festival
We will have a booth again this year at the 20th Annual Cotton Festival.  We will again set-up our photo booth and provide photo opportunities for children and adults.  We invite you to come and
spend an hour or two with us as we welcome guests to our booth and tell our community why we love Hood Memorial Christian Church.  We will also have the opportunity to tell folks in our community about our Stained Glass window project.  Volunteers are needed throughout the day.  Set up begins at 8:00 am.  Our booth will be on Broad Street across from the Dunn Museum (same area as last year).  Come and join us for a great day of fun and meeting folks in our community.
This Week at Hood
Wednesday, October 31, 1:30 -2:30 pm – Prayer & Inspiration Small Group
Wednesday, October 31, NO CHOIR PRACTICE
Thursday, November 1,  6:15 pm – Thursday Evening Small Group
Thursday, November 1, 6:45 pm – Choir Practice
Saturday, November 3, 8:00 am – Begin Set-up for Cotton Festival; Cotton Festival 9:00 am – 4:00 pm Sunday, November 4, 11:00 am – Worship
Upcoming Events:
Sunday, November 11, 4:00 pm – Veteran's Day Concert
Sunday, November 18, 6:00 pm –  Community Thanksgiving Service at First Presbyterian Church
Recommended Posts
October 23, 2019
September 09, 2019
July 29, 2019